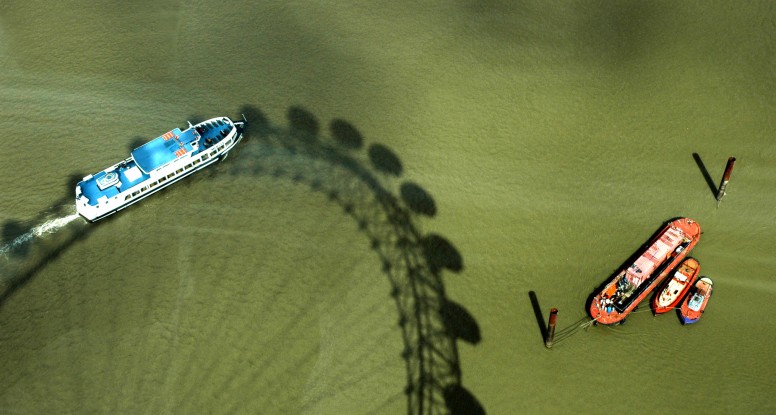 Phototalk Anne Guillaume
Backlight republie les phototalks parus dans notre revue trimestrielle. Au travers de ces échanges, découvrez les nouveaux talents de la photographie amateure. A travers un phototalk, ils partagent avec nous leur passion de l'image. Voici le Phototalk d'Anne Guillaume
Cette photo est assez extraordinaire. Parle nous d'elle et des circonstances de sa prise. Pourquoi l'as tu soumise dans le theme «Il etait une fois …» ?
J'ai hésité à la poster pour ce thème parce que je trouvais qu'elle aurait plus eu sa place dans une thématique « ombres & lumières » évidemment. D'un autre côté, elle laisse imaginer tout un tas de possibles avec cette coïncidence incroyable entre un bateau qui passe et l'ombre du London Eye. Il y a un bateau attaché à des piquets, et un bateau libre qui rencontre cette ombre sur sa tangente. L'attachement et la liberté, le prévisible et le hasard, le statique et le mouvement, les fluctuations de la vie en somme ?! La roue tourne et prend sur son passage des événements inattendus, pour nous surprendre, nous questionner. J'aime aussi quand une photo m'interpelle parce qu'elle n'est pas tout de suite compréhensible, et ici on ne perçoit pas d'emblée la réalité, on peut presque penser à une maquette… J'aime l'esthétique du graphisme mais je suis aussi fascinée par les photos qui ouvrent sur un mystère, qui laissent la porte ouverte à toutes les interprétations, où chacun peut s'inventer une histoire…

Quelle est ton approche de la photo ? Tu es assez active sur Instagram (@isoart). La photo mobile, c'est un autre univers qui s'est ouvert a toi ?
Mon approche de la photo a toujours été une approche « réflexe », aux deux sens du terme : l'objet et l'attitude ! Sauf que le réflexe de prendre des photos avec un reflex est nettement ralenti par son encombrement, sa visibilité et son poids ! Avec Instagram, que j'ai découvert très récemment, j'ai été assez surprise. Moi qui ai toujours détesté viser sur écran, je me suis mise à viser avec l'iPhone avec un réel plaisir et un amusement incroyable ! Un nouveau monde s'est ouvert à moi : un monde où on peut shooter n'importe quand, n'importe où, n'importe quoi presque (c'est dangereux !). Comme j'aime énormément tout ce qui est graphique et épuré, je me suis efforcée de créer une galerie homogène sur Instagram pour mettre en avant cet univers et j'ai découvert qu'on pouvait parfois faire de très jolies compositions avec pas grand chose… ! De plus, le format carré est un format que j'affectionne particulièrement, c'est le format parfait pour des compositions graphiques. Instagram, c'est aussi une communauté extraordinaire où on découvre des tas d'artistes qui ont un talent fou, des expositions, des univers différents, c'est stimulant et ça booste l'imagination, ça démocratise un peu l'art aussi ! J'ai une tendance à l'éparpillement, alors Instagram m'a aussi aidée à structurer mes idées, à progresser, à être plus exigeante avec moi même.
On dirait que tu te sens bien en milieu urbain, l'architecture, les lignes de fuite, le noir et blanc. Quels son tes sujets de predilection ?
Oui, je suis une citadine et l'effervescence du milieu urbain me stimule par sa variété, mais il est beaucoup plus facile de faire des photos graphiques que des photos humaines. Mes photographes préférés sont Depardon, Sabine Weiss, Willy Ronis, Martine Barrat, Cartier Bresson… que des humanistes, ce qui ne se ressent pas trop dans mon portfolio Instagram !! ;-) Cependant, j'ai bien d'autres thèmes de prédilection que l'architecture et les perspectives. Depuis un séjour à New-York où j'ai commencé à prendre des gens en photos, j'arrive, en me faisant parfois un peu violence, à shooter plus naturellement des scènes de rue, mais cela reste difficile car je suis encore incapable de demander à des gens de les prendre en photo (ça viendra peut-être !) et je n'aime pas le faire de manière « volée » par respect au droit à l'image. J'aime aussi beaucoup la macro, prendre des petits détails insignifiants pour en faire un graphisme abstrait et épuré… Faire des portraits est un réel plaisir quand il s'agit de personnes de mon entourage que je connais bien et qui se prêtent volontiers au jeu (et j'ai un modèle de 6 ans qui adore ça !!). J'ai eu l'occasion aussi récemment de faire quelques photos de concert et cela m'a procuré de magnifiques émotions, parce que je connaissais bien l'artiste et qu'il y avait une vraie complicité dans l'échange et les regards, sur une toute petite scène. Quant au noir et blanc, cela a toujours été pour moi le haut de gamme de la photo, la photo artistique par excellence ! Elle me procure les émotions les plus fortes, par ses contrastes, ses ombres et sa lumière, que la couleur ne peut pas égaler.
Retrouvez Anne Guillaume sur flickr.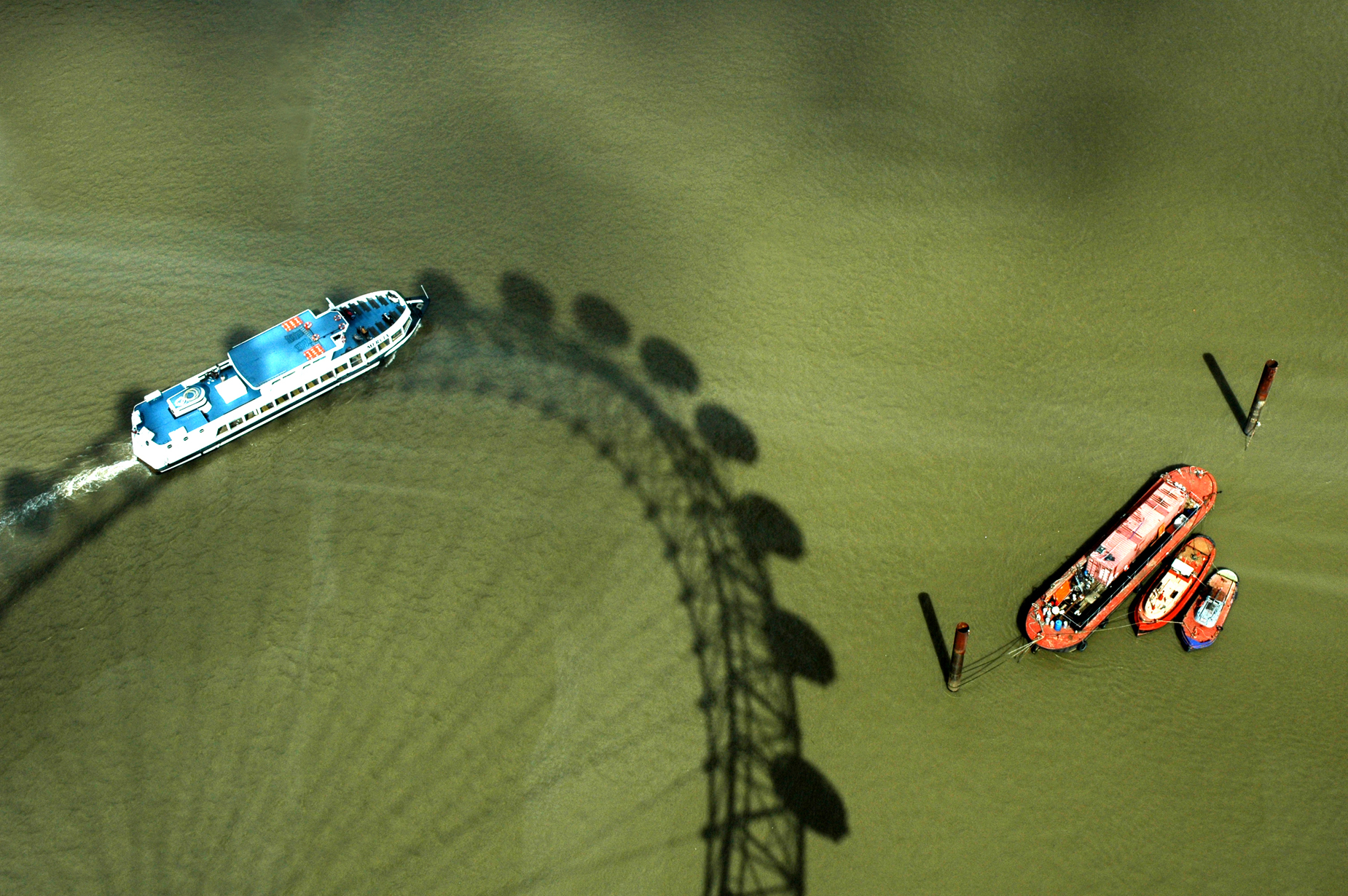 ---
Discover new talents of amateur photography. Through a phototalk, they share with us their passion for image.
This photo is quite extraordinary. Tell us about it and the circumstances in which you took this picture. Why did you submit it to our theme "Once upon a time…"?
I hesitated to submit it to this theme. I thought it would be better for a theme like "shadows & lights". On the other hand, the unbelievable coincidence of the ship passing and the shadow of the London Eye make us imagine a lot of things. You can see a moored boat and another one that meets the shadow on its tangent. Attachment and liberty, predictability and chance, static and movement, the fluctuations of life? The wheel turns and takes unexpected events on his way, to surprise us, to question us. I also appreciate when a photograph questions me because it is not understandable right away. In this photograph we do not understand what we see at a first glance; it almost looks like a mock-up… I like the aesthetics of graphics but am also fascinated by mysterious photographs that leave the door open to interpretations, where everyone can imagine his own story.
What is your approach on photography? You are quite active on Instagram (@isoart). Did you discover a new universe in mobile photography?
My approach of photography has always been a "reflex" approach with two meanings: the object and the attitude! Taking pictures with a reflex camera is slowed down by its dimensions, its visibility and its weight. I have been very surprised by Instagram which I discovered recently. I always hated focusing using a screen but when I started using my iPhone I found that I really enjoyed it. A new world has opened up to me: a world where I can shoot whenever, wherever and (almost) whatever I want (this can be dangerous though!). As I like everything that is graphic and uncluttered, I force myself to create a homogeneous gallery on Instagram. I want to showcase that universe and I have discovered that you can sometimes achieve great things with little effort. On top of that I very much like the square format; it's perfect for graphic compositions. Instagram is also a fabulous community. I've discovered artists with a lot of talent, expositions, different approaches, it's very stimulating and boosts my imagination. In some way it democratizes art, and as I tend to scatter my ideas around, Instagram helps me to structure them better, to progress and to be more demanding with myself.
It looks like you like urban surroundings, architecture, alignments, black and white. What are your preferred subjects?
I am a city girl and the excitement and variety of urban surroundings stimulates me and it is much easier to go for architectural photos than for pictures of people. My favorite photographers are Depardon, Sabine Weiss, Willy Ronis, Martine Barrat, Cartier Besson … only humanists, somethingthat you cannot detect from my Instagram portfolio!! ;-) Besides architecture and perspectives I also have some other favorites subjects. During a trip to New York I started taking pictures ofpeople. I have to force myself a little bit to shoot street scenes naturally. I am incapable of askingpassers-by for their consent to take a picture of them (maybe it will come with time). On the other hand I don't like taking "stolen" photos because I respect their image rights. I also like macro photography… focusing on small, insignificant details to create abstract and pure graphics. I love shooting portraits of my family members or friends that I know well and who play the game (I have a 6 year old model who loves it!!). I recently had the chance to take some pictures of a concert and I really experienced some great emotions. As I knew the artist very well, we created this great feeling between us. Last, but not least, I've always considered black and white photography as the highest standard of photography, real artistic photos! Black and white procures some strong emotions in me, the contrast, the shadows, the lights and for me colour photography can't equal this.
Find Anne Guillaume on flickr.