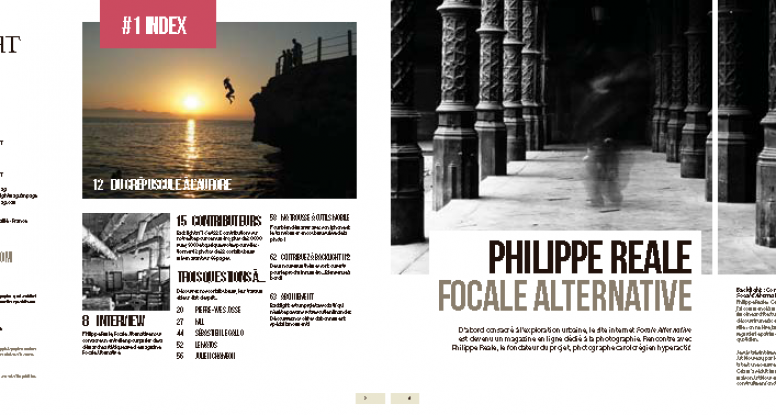 Issue 1 est enfin disponible ! Issue 1 is finally out !
Backlighteuses & Backlighters !
Nous avons le plaisir de vous annoncer enfin enfin, que Backlight Issue 1 est disponible à la vente !
66 pages de pur bonheurs nocturnes, 33 contributeurs sélectionnés, 42 photos publiées… bref, un beau bébé. Nous avons poussé fort et bossé dur pour le rendre disponible en mai, pour que vous ayiez plein de belles choses à feuilleter dans le hamac…

Issue 1 sur MagCloud
Abonnez-vous, soutenez-nous !
Nous avons mis en place 3 formules pour vous permettre de soutenir le projet
1. l'adhésion à l'association seule : 30 euros par an (pour une année civile)
2. l'abonnement seul : 4 numéros de Backlight Magazine pour 40 euros
3. l'adhésion + l'abonnement pour 50 euros par an (pour une année civile) : si c'est pas du discount, ça !
En tant que membre de l'association, vous pourrez rejoindre l'équipe et vous impliquer à nos côtés !
Un seul bulletin disponible sur : http://www.backlightmag.com/subscriptions/new
Et n'oubliez pas : Issue2 est lancée
Rappelons que l'appel à contributions est lancé pour le numéro 2 avec cette fois deux nouveaux thèmes au lieu d'un : Onirique et Révolution(s)
Vous connaissez la musique : postez votre photo dans le groupe Flickr > Liez (si ce n'est déjà fait) vos comptes Flickr et Backlight > vérifiez que vos photos apparaisssent dans votre compte et les thèmes :)
La Backlight Team
Dear Backlighters!
We are pleased to announce the release of Backlight Magazine Issue 1, available on MagCloud! 66 pages of dusky-dawny bliss, 33 selected contributors, 42 photos published… In a word, a beautiful baby. We pushed hard to deliver it in may, so you'll have plenty of nice things to flip through in the hammoc :)
Support us by subscribing!
We came up with 3 different subscription offers, you'll find one that suits you!
1. join the association for 30 € a year (civil year) – no mag, just non-profit love and involvement :)
2. subscribe to the mag : 4 issues of Backlight for only 40€
3. join AND subscribe : for 50€ a (civil) year and get 4 issues of Backlight : that's what we call discount!
We'll be glad to see you join the association and to work with you on this wonderful project!
Only one piece of paper to fill in : http://www.backlightmag.com/subscriptions/new
Issue2 is open!
Remember Issue 2 is open with 2 brand new themes: Oniric and Revolution(s)
Now you know how it works : post to the Flickr groups > link (if not already) your Flickr and Backlight accounts > check your pictures appear in the themes.
See ya!
The Backlight team
Backlight Magazine: Backlight Magazine – Issue 1
Backlight Magazine is a photography magazine where we publish your most inspiring photos / Backlight Magazine est un magazine photo dans lequel nous publions vos plus belles photos.Issue 1 theme is "From Dusk Until Dawn", 33 contributors. More on www.backlightmag.com