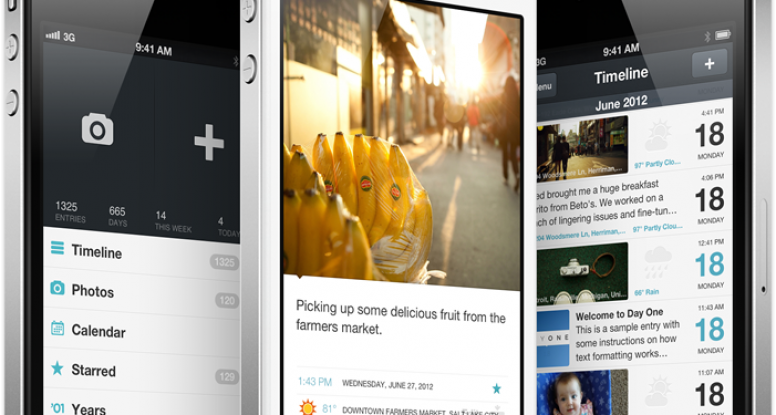 Backlight Mobile : 365 jours de projets photo avec votre Iphone
365 days of photo projects with your iphone
Envie de lancer votre projet 365 où vous prendrez une photo par jour ? Appuyez-vous sur votre iphone ! Notre petite sélection d'applications vous aidera à tenir la distance…
Collect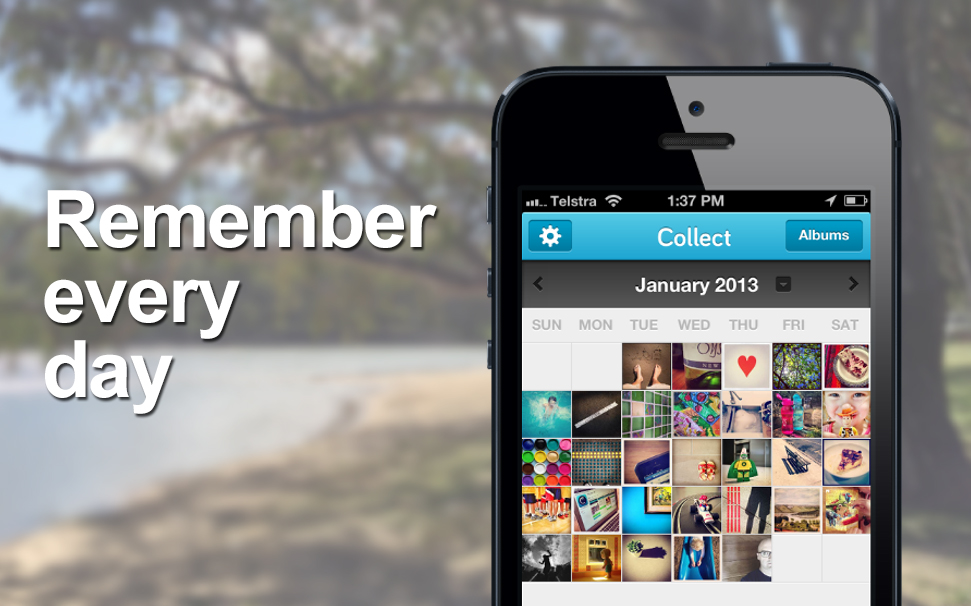 Classée dans les applications de « journaling » (tenue d'un journal personnel), Collect peut évidemment être détournée pour collecter la ou les photos quotidiennes de votre projet 365. Elle permet également d'archiver titre, description, tags et de diffuser chaque photo sur les réseaux sociaux. Collect repose sur un système d'Albums, ce qui vous permettra même de gérer plusieurs projets photos simultanément.
Filed as a journaling application (to maintain a Project Life journal) Collect can be hacked to gather the daily pictures of your 365 Project. It allows you to add titles, descriptions, tags and to share your contents on your favourite social networks. Collect uses an Album system, which will help you manage more than one photo project at a time.
Day One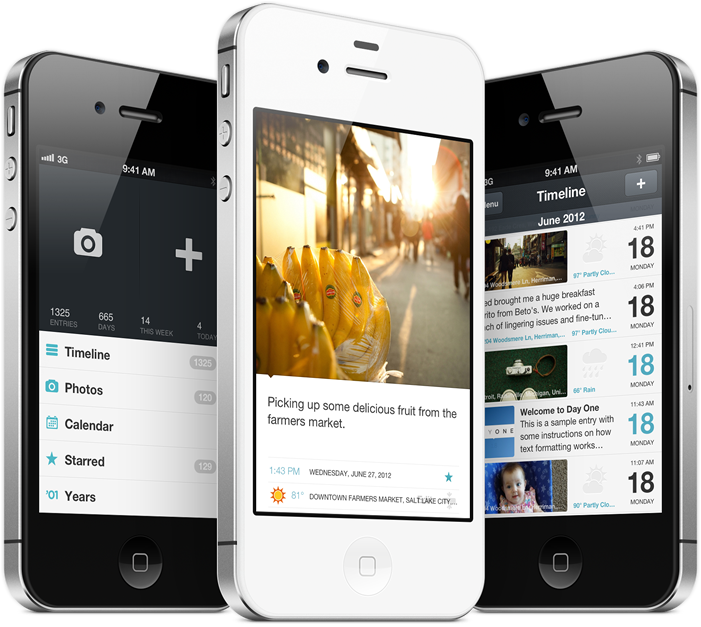 Autre application complète de « journaling », Day One collecte photos, tweets, événements, le tout bien entendu géolocalisé. Vous pouvez l'utiliser pour archiver et commenter vos photos et elle vous enverra une alerte pour ne pas oublier de prendre votre photo quotidienne. Déclinée en version iPad et pour Mac, Day One a été élue meilleure application 2012 sur le Mac App Store.
Also filed as a journaling application, Day One collects photos, tweets, ænotes and events of your life to record your memories with the option to synchronize with iCloud and Dropbox. You can hack it to archive and comment your daily photo and activate the reminder not to miss any. Available also as an iPad app, Day One has beeen awarded with the Mac App Store 2012 Mac App of the Year.
Blipfoto
Blipfoto.com est une communauté de photographes qui postent une photo par jour sur la plate-forme. Accompagnée de son application mobile (gratuite et au design fort élégant), elle allie les fonctionnalités d'un site de partage de photo, et d'une application photo de type Instagram avec filtre et fonctionnalités sociales (likes / partages / etc.)
Blipfoto is an online community where members share one photo a day. Along with its sibling iPhone application (free of charge and beautifully designed), it combines both the functionnalities of a sharing platform and a mobile application like Instagram, equiped with filters and social features (likes / shares / etc.)
iPhotography Assignment Generator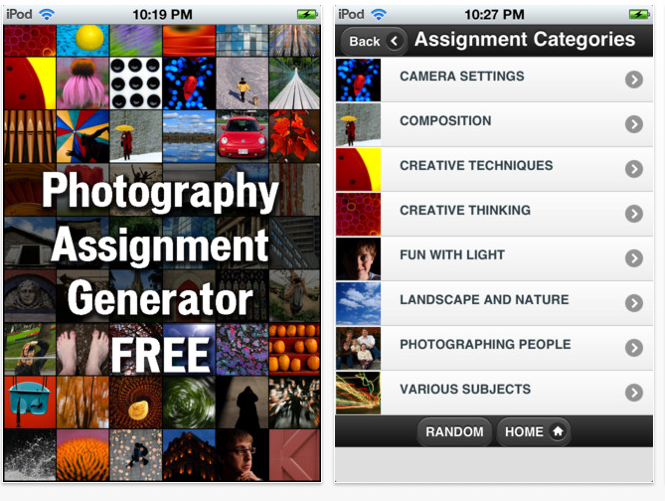 Cette app vous propose des «missions» photo mobile réparties par catégorie (vous pouvez aussi laisser l'application choisir votre prochaine mission pour vous au hasard). Elle permet de s'imposer un cadre de travail et prodigue aussi des trucs et astuces pour améliorer votre technique. Existe aussi pour la photo réflex (Photography Assignement Generator).
iPhotography Assignment Generator provides you with photo tasks which they can manually select from a list ordered into several different categories; or they can let the app pick a theme for them at random! It not only gives you some structure in your shooting, but also teaches some great tips and techniques for creating better photos. Check also the Photography Assignment Generator for SLR shooters!
Rejoindre une communauté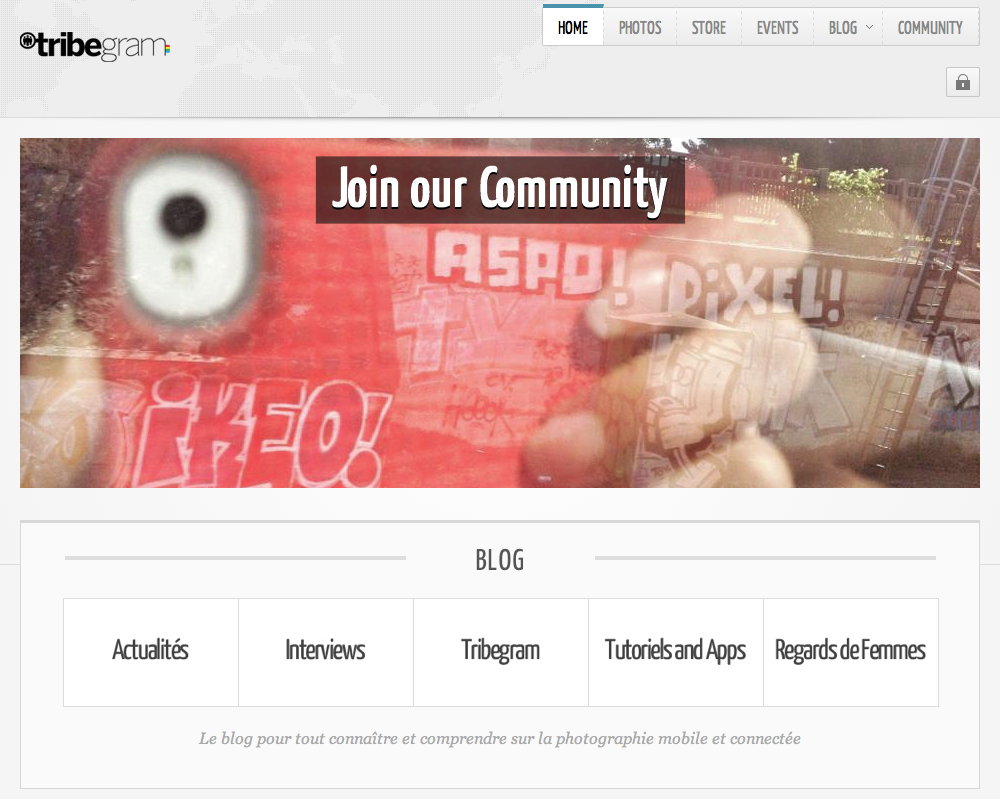 Pour se motiver et trouver inspiration et émulation, rien de tel que de s'y mettre à plusieurs. La photo mobile est par essence sociale et il existe de nombreuses communautés qui organisent expos et sorties photo… pourquoi ne pas les rejoindre ? Parmi elles, il y a évidemment les Intagramers France (regroupés sous le hashtag #igersfrance et ses subdivisions locales), mais aussi Tribegram (#tribegram), Paris Mobile Photo (#parismobilephoto) pour n'en citer quelques unes.
To find inspiration and motivation, get the help of others! Mobile photography is social by essence and there are many communities around that set up exhibitions and photo walks, so why not join them? Among many others you will easily spot the French Instagramers (gathered under the #igersfrance hashtag) but also Tribegram (#tribegram) and Paris Mobile Photo (#parismobilephoto), to cite just a few.
52 photographic projects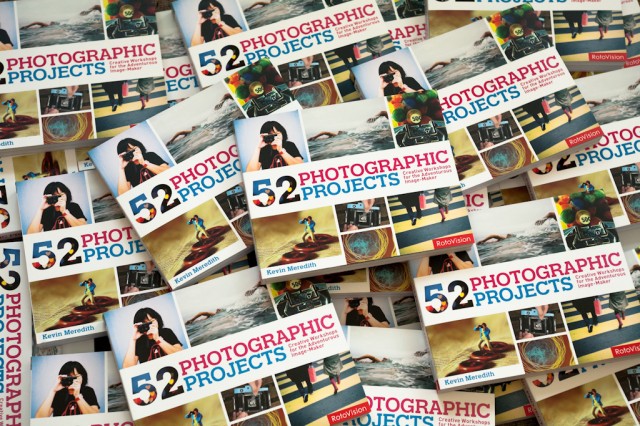 Allez, un peu d'inspiration papier aussi (on vous a dit qu'on aimait toujours le papier chez Backlight) avec le «52 photographic projects» de Kevin Meredith (ex Flickr crew), une bonne source d'inspiration pour commencer déjà avec une photo par semaine… Dépêchez-vous l'imprimeur a prévu d'être out-of-stock dans 6 mois.
vvv
Let's get inspiration from paper books (have we already told you that we love paper here at Backlight?) with « 52 photographic projects » by Kevin Meredith (aka Lomokev on Flickr), a good source to get started with weekly project…
Hurry up, the publisher expects to be out of stock in 6 months.